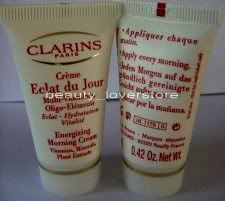 All the vitamins your skin needs for maximum radiance ! Energizing Morning Cream "wakes up" the skin's vitality and provides optimum moisture to leave it looking radiant and beautiful. It is the ideal day cream for dull, lackluster skin.
APPLICATION
Apply every morning to face and neck with light, sweeping movements.
ACTIVE INGREDIENTS
-9 fruit and plant extracts rich in vitamins, including Vitamins A, B, C, E and K: Kiwi, Orange, Pineapple, Cashew Nut, Sesame, Peach, Hops).
-4 essential minerals (Zinc, Manganese, Magnesium and Calcium): energize.
-Vitacreatine®: helps the skin assimilate the vitamins.
-Radiance booster pigments.
-Clarins Anti-Pollution Complex: protects against environmental aggressions and free radicals.
PRICE AT RM 35.00