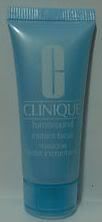 Clinique turnaround Instant Facial Mask is a 5-minute facial mask that delivers all the radiance and smoothness of microderambrasion with significantly less irritation and stress to skin.
This mask had a lovely cool, refreshing sensation on the face with a fine and powdery consistency. It exfoliates and smoothes skin, leaving it feeling soft and sparkling with no tightness like some other masks.
Patent technology boosts skin metabolism, leaving skin vibrate, fresh, translucent and even-toned.
Skin types:
Mild nature allows daily use for all skin types.
Price at RM 25.00